Bathroom Upgrade – Change your vanity, counter, backsplash, or lighting
UPDATED JULY 2017
Small Changes, big impact!
Do you want a bathroom upgrade, but for one reason or another you don't want to renovate the whole bathroom at once. Maybe you don't have the patience or the money to undertake a full bathroom renovation. Maybe you only have one bathroom in your home and need someone to upgrade it without making the rest of the bathroom inaccessible. SKG can replace your vanity countertop without any major disruption to your life. And while we are at it, we can replace your sink & faucet too. Do you want a new tile floor… maybe with in-floor heating? We can take that opportunity to replace your toilet as well. What about some new lighting or a new bathroom fan. Each of these new features can also be installed quickly, without any major mess or disruption. If you are willing to embark on a slightly longer journey, you can replace your bathtub and alcove wall tile, or even replace your bathtub with a full shower. SKG can help you deal any bathroom upgrade scenario.
Can't find a contractor for those small bathroom upgrade jobs?
Another problem expressed by many of our clients is that they could not find a remodelling contractor to undertake these small jobs…… until they contacted SKG Renovations. We can upgrade only part of your bathroom or we can complete the project in stages if you like. Whatever your situation, SKG will try to come up with a plan to make your bathroom upgrade a reality.
Upgrade your bathroom with a new Countertop, sink, & faucet
A very popular bathroom upgrade that SKG does regularly is the replacement of a countertop, sink, faucet. This can be done quite quickly without disrupting the use of the bathroom significantly. Most vanity countertops are relatively easy to remove and replace with any surface you want. Natural stone or engineered stone (quartz) are very popular these days. Quartz surfaces are extremely popular because they are very easy to clean and don't stain easily.
When replacing the vanity surface, it is always a great idea to change out the sink and faucet as well. This is also a quick replacement that is easy on the budget.
Replace your vanity
SKG can also replace the vanity in only a couple of extra days. We often use Ikea Godmorgon cabinets for their very competitive pricing quality, and sound engineering. As well, Ikea always carries significant stock of their most popular products, which makes choosing one of their bathroom cabinets very compelling (most retailers carry no stock at all; with 8-10 week wait times). A vanity replacement is often the only thing that a bathroom needs to give it a new look when preparing for the sale of your home, or if you just want to improve your enjoyment of your newly transformed bathroom space.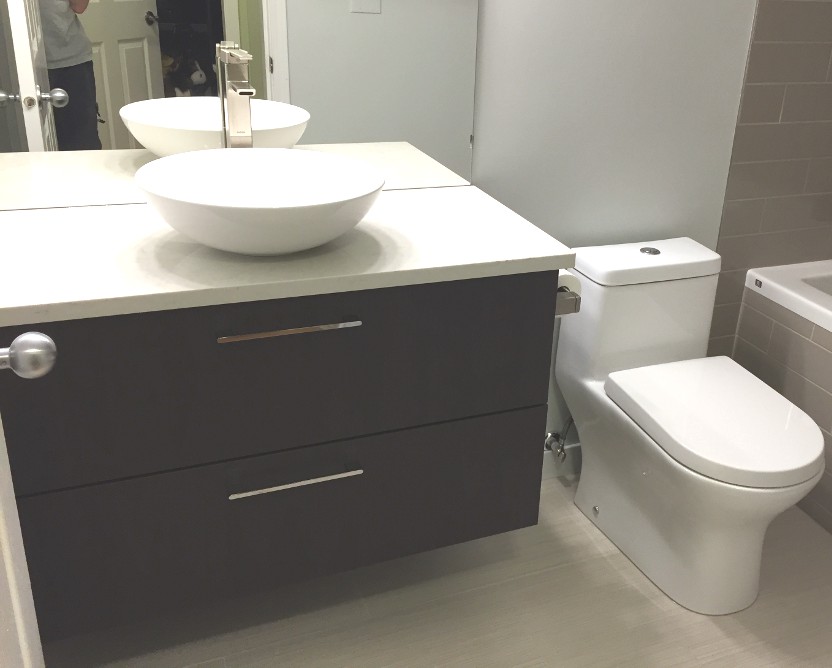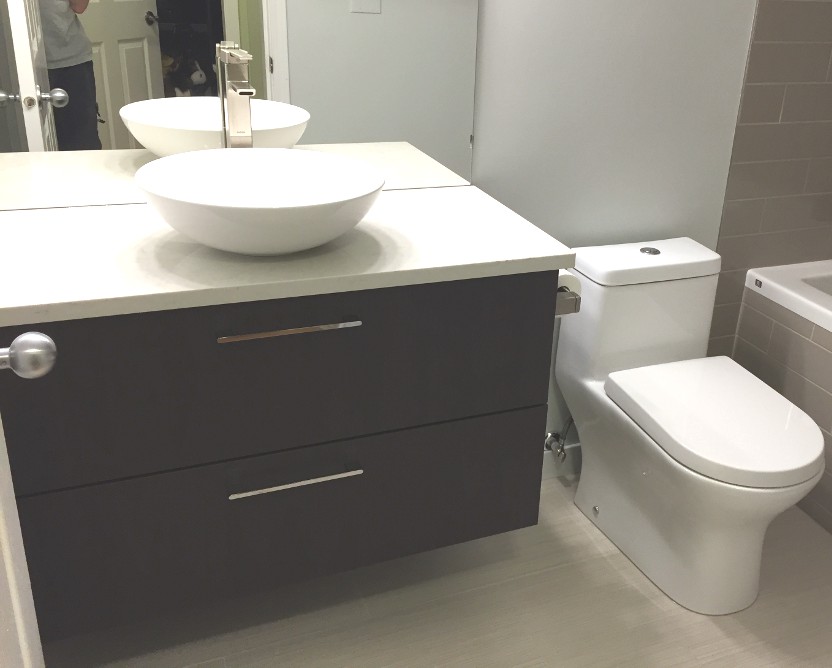 Floor Tile Replacement
Often the floor tile is replaced in conjunction with a vanity replacement, but can also be done separately to give your bathroom a newer look. Do have a old ceramic tile bathroom floor from the 80's? Chipped tile and permanently stained grout lines getting you down? Replace it with a stylish porcelain tile or a marble mosaic perhaps. There are many porcelain and natural stone tiles available to choose from. The porcelain tiles are the best for easy care and resistance to wear & damage. Unlike ceramic, porcelain tile is made of a solid porcelain that is entirely water proof. It is also very dense which means that it is not as vulnerable to compression damage and chips as is ceramic tile or some natural stone.
Natural stone tiles are also an option but some of the softer stones they can be damaged or scratched quite easily. If you are looking for the look that only natural stone can provide, just make sure that these tiles are sealed fairly regularly to prevent staining. A compression ding or scratch may be unavoidable, but for some, the look of real stone can be worth the extra work and risk.
A new tile floor can instantly upgrade your bathroom space. Along with a good quality, pre-sealed or epoxy grout, your new tile floor can last decades without a lot of maintenance.