Include a new counter top, sink, flooring, or backsplash in your kitchen upgrade
UPDATED JULY 2017
Upgrade instead of renovating
Is your limited budget keeping you from undertaking the renovation you were dreaming about? Do a kitchen upgrade or a bathroom upgrade instead of doing a full renovation. At SKG we can handle anything from a small kitchen upgrade, to a full restructuring and remodel of your entire kitchen space. Are you afraid of the hassle, mess and disruption a complete renovation will cause? Have no fear, SKG Renovations has performed dozens of small kitchen and bathroom upgrades and remodels.
Dated or worn out countertop?
Most of the smaller kitchen upgrade projects undertaken by SKG have involved replacing a worn out, dated kitchen counter top with a new, manufactured "quartz" stone surface or natural stone (a natural stone "quartzite" is pictured at right). A stone countertop will last virtually forever, and give your kitchen an instant makeover. Most people consider the countertop to be the single most important upgrade that you can undertake in your kitchen because the aesthetic change is so dramatic. Depending on the situation, a new stone countertop may also be extended to create a eating area, or breakfast bar.
Check out my article: Granite vs Quartz – An admittedly biased comparison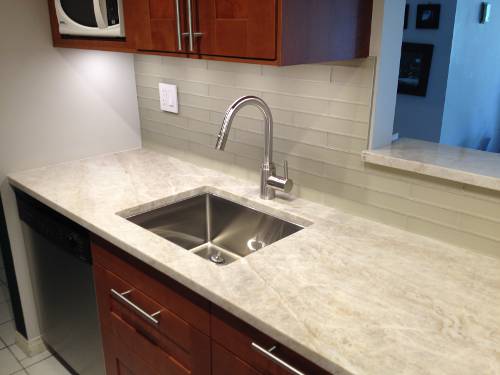 New Sink & Faucet?
When your old kitchen countertop is replaced, it is also a great time to consider a new faucet and sink, since the old one must be removed, regardless. Undermount sinks are always a great addition to any kitchen upgrade, and they tend to give your new kitchen a "high-end" feel. They also allow the stone to be exposed in the sink hole just above the sink. This makes your sink area much easier to clean and much more attractive, compared to an old "drop-in" sink. A new pull-out or pull-down kitchen faucet is also a very popular and practical upgrade to your kitchen. It is almost essential to upgrade your faucet if you are investing the money into a beautiful new stone countertop (see pic above).
Change or Refinish your Doors & drawers?
Another great idea to transform your kitchen space, is to replace or resurface your cabinet doors. This is a great, cost effective way to update and improve, without the high cost of a full renovation. Some cabinet manufacturers are making their cabinets according to a standard sizing that allows the homeowner a larger selection of pre-manufactured doors to choose from. This means that you may be able to simply buy new doors to replace the old ones. If this is too costly an option, refinishing or repainting is a slightly more economical option again. We simply send in your old cabinet doors to get finished or painted in a custom shop, and the cabinet end panels and trim are refinished on site.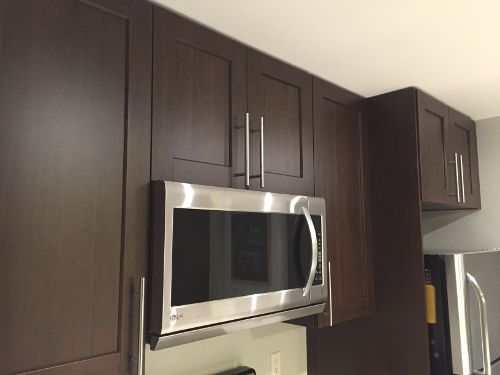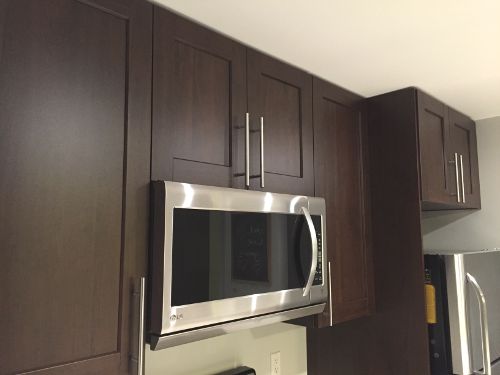 New Flooring?
Maybe your flooring is still a stylish old 70's vinyl, or dated and damaged ceramic tile. Replace it with a trendy new porcelain tile, a high tech composite surface flooring, or a engineered wood floor. If you can afford to spend a little more, you can also consider a floor warming system installed under your new tile. And you need not be afraid of installing tile because of the dirty grout line nightmares you experienced with your old tile floors. We at SKG use a new generation of tiling grout that is largely water proof, thus very easy to clean. New tile or engineered wood flooring can even be installed (in most cases), without removing any of your existing cabinets. This makes flooring upgrades easier than you think. If you decide on only a few upgrades, new flooring can keep the budget under control, while still transforming your kitchen space.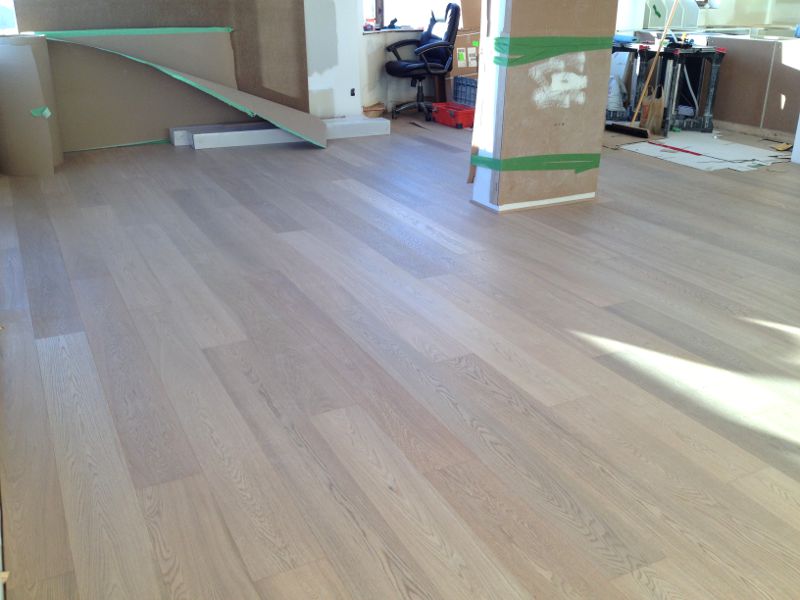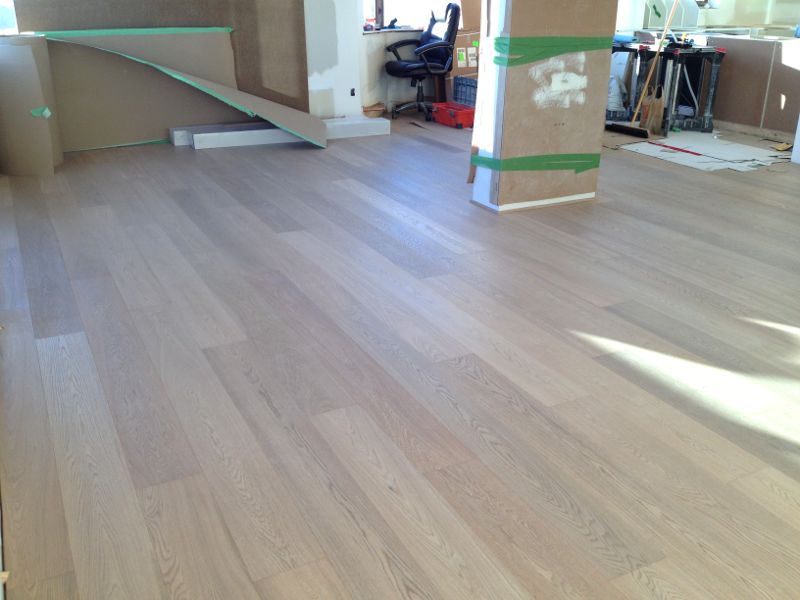 Reduce or remove a partition wall
Are you tired of the cramped space within your 1950's to 80's kitchen, and you don't mind a little bit of a disruption in your home life? Consider removing or reducing that annoying partition wall that separates you from experiencing quality time with your family. This is an extremely popular option for homeowners that are willing to undertake a slightly larger and more disruptive renovation, although it can be relatively quick & easy if the wall is non-load bearing. SKG has done many of these projects and would be honored to help you with yours (see during and after pics at right).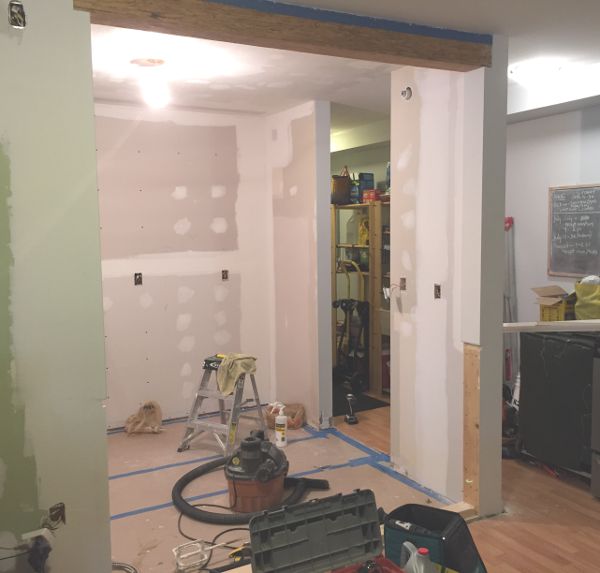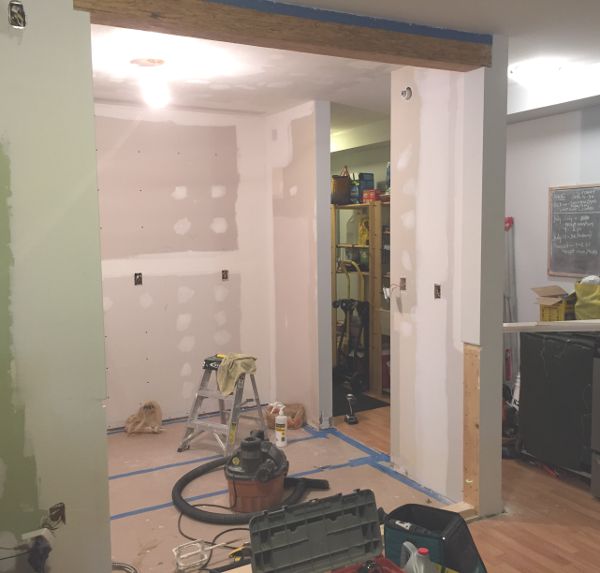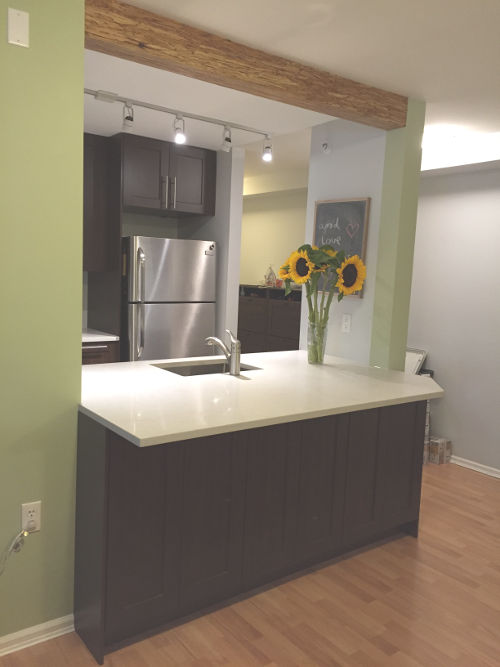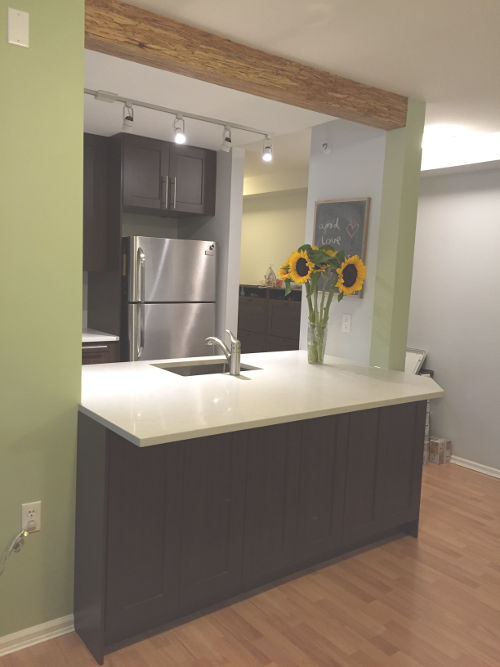 Upgrades and some advice
SKG has always helped their clients create kitchens with sound structure and beauty, but we also have helped dozens of clients in the design & planning stage of their new kitchen spaces as well. The start of any new kitchen design must alway focus on the limitations of the space itself. If the homeowner cannot, or does not want to, undertake major structural, plumbing or electrical upgrades, then the use of the new kitchen space must reflect these structural and service access limitations. That means that before the homeowner can start designing their dream kitchen, they must incorporate these limitations into the decision making process. This is not usually a bad thing, because the vast array of design choices often causes confusion (and panic) as to what clients want and need in their new kitchens. These restrictions actually allow most homeowners to focus on fewer design options, making their choices a little easier. The location of the main drainage stack, and access to the electrical panel are examples of these kinds of restrictions. Other examples of spacial considerations that SKG can advise clients about when planning their kitchen upgrades, are cabinet, fixture and appliance choices. For example, SKG frequently offers the advice to keep the size of the sink cabinet as small as possible, because of the relatively inefficient storage space beneath the kitchen sink. A large single bowl sink can still be installed in a much smaller cabinet without wasting precious lower cabinet storage space.
Check out my article: Kitchen Sink & sink cabinet – Everything you need to know
Another example would be about refrigerator depth and height. Because so many clients have discussed their preferences about size, style, and height of their new refrigerators, SKG can pass along the insight that has been gained by these critical discussions.
Check out my article: Buying a refrigerator? Tall and shallow are best.
SKG can also advise homeowners about new trends in kitchen design and layout that other clients have been inquiring about and requesting to be included in their own kitchen upgrades.
Conclusion
Hire SKG for your next kitchen upgrade or bathroom upgrade project !
A few of the choices above could be considered quite costly if they were included in a large scale renovation. Incorporated into a small kitchen upgrade, they can be a realistic choice because you are able to apply a few more dollars to a smaller number of improvements. In other words, you can upgrade instead of renovate, by concentrating on a few "key features" like a new kitchen counter top in your new upgraded space without blowing the budget on a full scale renovation. These "key features" can achieve the highest impact in your new and improved kitchen space, resulting in a massive transformation that stays on budget. Of course, we can also handle full kitchen renovations with quality & efficiency, if that is the option you prefer. Check out all the SKG kitchen projects.
for a free assessment and labour quote
E-mail us ([email protected])
OR use the Contact Form link below.
Make your renovation experience awesome.